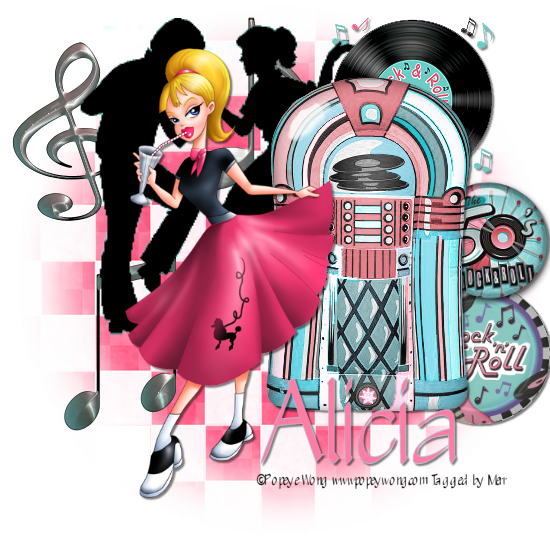 READY TO START?

YOU WILL NEED TO HAVE A WORKING KNOWLEDGE OF PSP AND ANIMATION SHOP (AS).
THANK YOU TO THE TALENTED CREATORS OF MY SUPPLIES

SUPPLIES NEEDED:

Tube of choice. I'm using the wonderful artwork of Popeye Wong. You can find his work on his website: Here.

KIT FROM: Commercial Candy's "The 50's" Kit. You can purchase this kit: HERE

MASK: I'm using db_mask150 offered Here.

FONT: I'm using Olive Oil get it:Here

WRITTEN IN PSP X
ANIMATION SHOP 3

Open a new 550x550 canvas flood filled white.

Select a paper from the kit and resize it to 600x600. Copy and paste it as a new layer on your canvas. Apply your mask layer.
click on your mask layer in your pallet and merge group.

Select your elements from the kit. If you choose the dancing couple as I did, you have to remove the background.

Add your tube and add a same drop shadow. You may also add the same drop shadow to some of your backgroud elements.

Now, select two colors from the canvas. I used: stroke (#a0d8e8) and filler: (#fe7da5) type the name using the Olive Oil font. Add the above drop shadow to it.

Add your copyright info.

Save it as a PNG file.

I HOPE YOU ENJOYED THIS TUT!


written by Merrilee Finney

©DezinesbyMerr
DO NOT COPY, please link to this site to share.
This tutorial is for personal use only, you may not profit from it.