READY TO START?

YOU WILL NEED TO HAVE A WORKING KNOWLEDGE OF PSP AND ANIMATION SHOP (AS).
THANK YOU TO THE TALENTED CREATORS OF MY SUPPLIES

SUPPLIES NEEDED:

Tube of choice. I'm using the wonderful artwork of Nene Thomas. You can find her work HERE.

FRAME FROM: Clarey's Smooches Kit. Kit available: HERE

OTHER SUPPLIES (included in my supplies): Sparkles by: We're All in God's Hands: PSP Tube Depot You can select.
Castle Picture: By Jeanne: PSP Tube Depot Dragon: If it's yours contact me and I'll give credit (free animated GIF collection)

MY SUPPLIES: Download here
stroke
width 2 and I chose barbara hand as my font). Position your name where you want it and add the same drop shadow.

Add your copyrights.

Copy merged and paste your canvas as a new animation in animation shop. Open your dragon gif. Duplicate your canvas by 4 frames
select the first frame of your dragon gif and CONTROL A then CONTROL C (select all and copy). Then, select the first frame of your
canvas and CONTROL A then CONTROL E (select all and paste). Position your dragon in the frame of your canvas and click the mouse to drop it.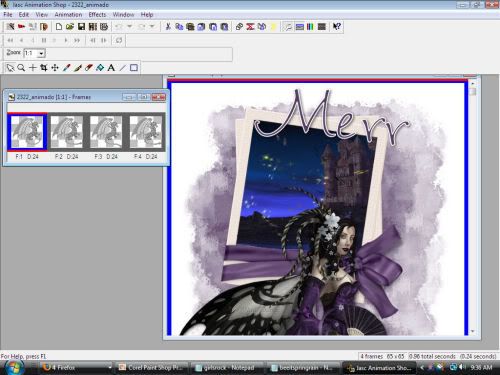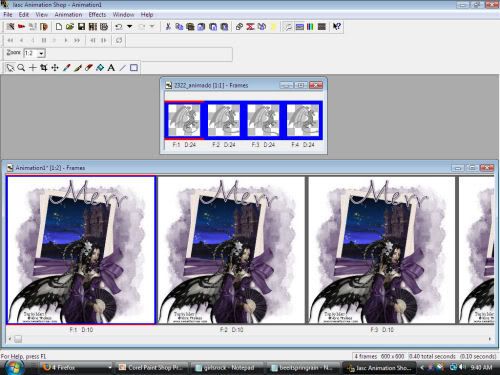 Adjust your frame properties to speed to 20 and resize your animation to 500x500 and save it as a gif.


I HOPE YOU ENJOYED THIS TUT!


written by Merrilee Finney

©DezinesbyMerr
DO NOT COPY, please link to this site to share.
This tutorial is for personal use only, you may not profit from it.