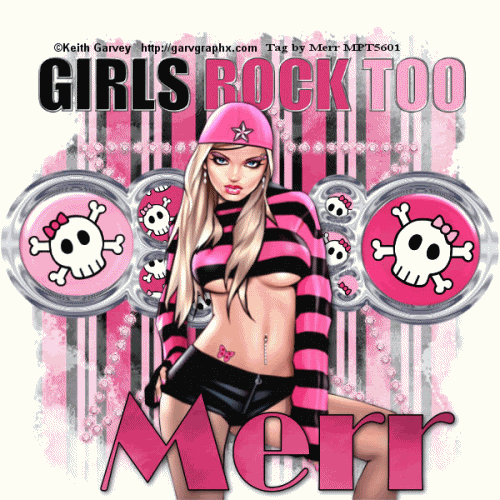 READY TO START?

YOU WILL NEED TO HAVE A WORKING KNOWLEDGE OF PSP AND ANIMATION SHOP (AS).
THANK YOU TO THE TALENTED CREATORS OF MY SUPPLIES

SUPPLIES NEEDED:

Tube of choice. I'm using the wonderful artwork of Keith Garvey. You MUST have a license to use his work.
A license can be purchased at MPT

KIT FROM: Misfits Scrapz (Girls Rock Too!) Kit available: HERE

FRAME FROM: Digital Choas Chrome Frame 1 Available HERE

Mask of choice.

FILTERS: ALIEN SKIN XENOFEX CONSTELLATION

WRITTEN IN PSP X
ANIMATION SHOP 3

Open a new 600x600 canvas flood filled white.

Choose two of the skull papers and 2 more papers from the scrap kit.

Open the paper that you wish to be your background. Copy it and paste as a new layer in your canvas. Apply your mask and merge group.

Now, open your frame and paste it as a new layer. I chose the two round light and dark pink circle charms from the kit, control M on the
dark pink charm to mirror it, and place each under the large circles in the frames, resize to fit. (make sure the skulls face eachother)
Then, select your eraser tool and erase the loop on the charms for both charms (you have to have the layer selected to erase part of it)




Now, select one of your skull papers resize it to 400x400 and paste it as a new layer. Position it under your frame and grab your magic wand
select the frame layer and click in all the smaller circles SELECTIONS>MODIFY>EXPAND by 3 SELECTIONS>INVERT. select your paper layer and hit the
delete button on your keyboard SELECTIONS>SELECT NONE.

Mirror your second skull paper by hitting CONTROL M on your paper and repeat these instructions. I made mine so that the color in the big circles was different
than the color in the smaller circles and the skulls were faceing the opposite directions on both sides of the frame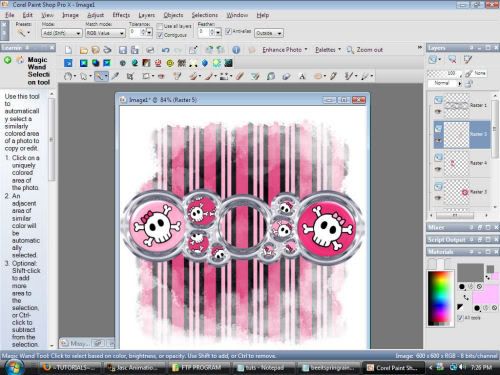 Now choose some embellishements from your kit. I chose the metal "GIRLS ROCK TOO!" text charm and the large pink star

Position the star just above the mask layer and the metal text layer above your frame move to top layer. size it to fit how you like it

Copy and paste your tube as a new layer rezie her so she fits just how you want her. Make sure she is the TOP layer now. Add a drop shadow.

Now open select black as your forground, your final paper as your background pattern. Choose a nice fat font and type your name.

Position your name on the bottom of the canvas and add the same drop shadow. Add your copyrights.

NOW.. click on your star layer. Go to EFFECTS. Select Alien skin xenofex constallation and set to these settings:




Save as the first frame (jpg or png file) hit the undo button and select the same filter, random seed and repeat this processs until you have at least 3 frames.

open Animation shop wizard, select frame speed as 15, and select your saved frames in add image. Resize it and then save it as a gif file.

I HOPE YOU ENJOYED THIS TUT!


written by Merrilee Finney

©DezinesbyMerr DO NOT COPY, please link to this site to share.
This tutorial is for personal use only, you may not profit from it.